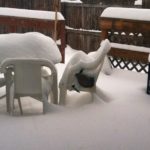 Well, it has snowed 9 inches in less than 24 hours and is below freezing outside. I didn't have any clients scheduled today, so I stayed home.
Brianna and her friend went sledding and are nearly frozen. But, they are having fun!
It is still snowing steadily with a blizzard warning in effect through tonight. Although I am a native of Colorado, I have never even tried to ski, and have no interest in having this much snow. This is just BS to me and I would surely rather be in California. If I could only afford to move!
I have clients scheduled at 9 am tomorrow morning and I think that's ridiculous. It is going to take me hours to get to work! Is getting your nails done really that important? Ugh! Give me a break!