The last few days have been great, outside of work!
Saturday
On Saturday night, Cole and I went to the theater to see The Vow. The story was great and original, but who cares either way because Channing Tatum was on the screen for 2 hours! Yummy!
After the movie, we went across the street to a restaurant called BJ's, with hopes to eat a nice meal. When we got in the door, which we could barely do because of how many people were waiting, we were told the wait was ½ hour. Ugh! Forget it. I was starving. So, we left and went over to TGI Fridays.
The wait there was 20 minutes, although I heard the host telling that to everyone who walked in. Seems to me, the wait should get longer, the more people he adds to the list. ??? I found a table in the bar and settled in. It was a cozy little booth that worked out just fine. It would have been nice if it didn't stink so bad in there though. Not sure if it was the mix of smells from all of the different foods being cooked or what, but it was gross.
Since I was starving out of my mind, I ignored the smell and had a glass of wine and potstickers. After we were done eating, we went home and had a couple more glasses of wine and enjoyed the rest of the night!
Sunday
Today, Brianna, her friend and I are attending an event that we attend yearly. The organization that hosts the event is called Heroes Forever. They provide fun and support for families with children battling cancer. And, even after the kids are done with treatment, they are still invited every year.
We are at a place called the APEX center. This center has a giant, 23,000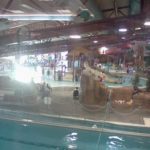 square foot pool area with water slides, a lazy river and more. It also has an ice skating rink, climbing wall, fitness center, and who knows what else. It is a huge place and I haven't been through every area yet. Brianna has such a good time so it is worth the drive!
Later, I will be watching the Grammy Awards. Yay! I am so, so excited to see Adele perform. She is my favorite! Oh, I just got word that Whitney Houston died. Although it's unfortunate, it's not a huge surprise I guess. She has been a mess since she hooked up with Bobby Brown. She just went totally downhill after that.
Well that's all for now. I better go get the girls out of the water and ready to go. It's probably snowing again and we have a long drive home.