Have you noticed that your skin looks different than it used to? What happened? When did I start looking so old and what am I going to do?
As you age, your skin loses elasticity due to the decreased amount of collagen. It isn't as firm and can appear sallow and uneven, along with larger pores. Hormonal changes aren't our friend either! These changes create a different set of challenges. Now you need to focus on evening out your skin tone, camouflaging bags under your eyes and decreasing the appearance of wrinkles.
There is no need to feel bad about aging though. Hold your head high and embrace this time of life with grace, poise and elegance. With a few helpful tips you will be on your way to looking just as beautiful as ever.
Primer
Primer is of utmost importance to achieve a smooth, even appearance. It fills in wrinkles and fine lines, helps your foundation glide on and gives staying power! Who wouldn't want that?
Apply primer to your entire face, including your eyes. Illuminating primers do wonders for dry, dull, mature skin.
Foundation
At this point in your life, you probably don't have acne or any other huge imperfections to cover up so your makeup should not be as thick. Focus on enhancing your skin now instead of just heavily covering it up. Your foundation should be a much thinner consistency than when you were trying to cover up blemishes. Heavy, thick foundations settle into fine lines and scream "look at my wrinkles"!!! This is not the effect you are going for.
Look for a foundation that:
Offers moisture and firming ingredients
Adds and a nice glow and brightening effect to your skin
Fills in wrinkles without caking on them, which magnifies them
Contains sunscreen
All foundations are not created equal and there is a big difference between what 20 year old wear and what you should be wearing. There are many "anti-aging" foundations on the market now.
Look for products that say:
Radiant
Anti-aging
Firming
Lifting
Mature skin
Lightweight
Hydrating
I have tested tons of foundations! I have not found that the expensive brands are superior over drug store brands. I have tried foundations from $5-$50 per bottle and my favorites are:
Loreal Visible Lift – great foundation although the pump stops working which is a problem!
CoverGirl Simply Ageless – provides a nice light coverage that is buildable with a healthy glow
Estee Lauder Double Wear – Good product but a bit pricey
Revlon Colorstay (normal to dry skin formula) – medium coverage that blends nicely and lasts!
NYX – Total control drop foundation – VERY thin with good coverage. Quite drippy though.
Concealer
There are plenty of makeup tutorials, especially for young people who highlight under their eyes with a bright concealer. You do not want to do this! You will actually be highlighting bags, wrinkles, etc. You can either apply a concealer that cancels out the uneven color, like green, or skip it all together and let your foundation do the work.
Blush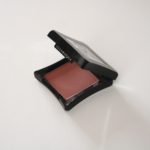 Choose a natural looking blush in a peachy pink tone. You just want to add a healthy touch of color, so do not choose Barbie pink. Some women with really dry skin prefer cream blushes that blend into the skin well. Others still prefer a powder blush. Experiment with both and see what works best for you. You may also want to apply your blush a tad bit higher than you used to for a face lifting effect.
Powder
Loose powder may have worked well to make you look flawless years ago but now it just settles into lines, making you look older.
Eyes
As we get older, the skin on our eyelids are not as taught as they used to be. Many women experience "hooded" eyelids. Don't fret! There are tricks to disguise this. The goal to achieve now is to create a visual lift with your makeup application.
Shadow
First and foremost, apply a primer across your entire lid. This helps smooth the surface and keep your shadow in place much longer.
Choose shadows in warm, neutral colors that are complementing to your skin color.
Stay away from glittery, shimmery, metallic shadows. These tend to highlight problem areas. Choose a matte shadow, or one with a satin finish.
Apply the lightest color to the lids. Apply a medium color to just above the crease. This will create the illusion of a higher lid. Blend upward and outward.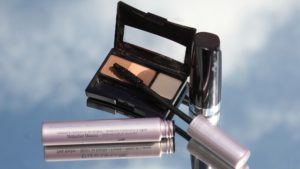 Liner
Since aging tends to make our skin look more pale and somewhat transparent, black liner can look harsh. Change to a brown or gray liner and only apply to the lash line on your upper lid. Applying liner to the bottom of your eyes makes them appear smaller. You want the appearance of wider, more open eyes now. You can even add a small upward stroke (wing) to the outer corners to draw attention upward and "lift" the eye.
Mascara
Again, wearing a heavy black mascara can look very harsh. Choose a very soft black or dark brown mascara, focusing on your upper lashes. You may apply a light coat to the bottom lashes so you don't appear to have lost those!
Eyebrows
Just as the hair on our head thins and turns gray, so do our eyebrows. Choose a soft brown or lighter color of pencil to fill them in. Do this with a light touch and blend well. You do not want your eyebrows to look like you were a model in an art/drawing class.
Lips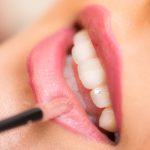 At this age, our lips have formed wrinkles around them too. Ugh! Start by applying a lip liner to keep your lipstick from bleeding into areas it doesn't belong. This will define your lips and keep your lipstick in place.
Next, apply a thin coat of moisturizing lipstick to the inside of your liner, but not all of the way up to the liner. Simply blend the two with your lip brush to create a soft, supple effect. Sheer lipsticks look better than thick or dark colors.
Summary
The purpose of wearing makeup for women over 40 is to enhance and give a lifting effect. Keep your look soft and beautiful. You are mature now and not trying to look like a glamor queen. Be radiant and shine!