Well, it's Friday the 13th and it has been a wonderful day!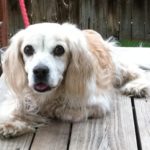 Lately I have been looking at dogs to purchase since our family dog died in August. She was a beautiful and very sweet spaniel mix named Missy. We got her when she was 6 weeks old and she was 15 1/2 years old when she passed away. We miss her very much!
So, I have been searching the internet daily, on a site that lists all animals available in shelters in all states.  Of course, I was looking for one in Colorado, so it would be so much easier to see and adopt a dog.  After a few days of looking, I came across one that I really liked. She was listed under the name Katia, a little chihuahua. I emailed the Fort Morgan Humane Society right away, expressing my interest and hoped to hear from them soon. The same evening, a woman emailed me back with all of the information about her.  This woman rescued her from the shelter so she wouldn't be euthanized, and was considered her foster parent until she could find her a good home.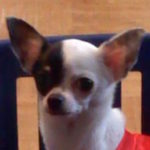 The lady offered to bring her to my home to see if I like her and if she gets along with our other chihuahua, Roxy. I bought Roxy from the Denver Dumb Friend's League for Brianna right before Christmas a year ago. Brianna was very attached to Missy and I knew Missy wasn't going to last much longer so I wanted her to be able to bond to another dog before she passed away.  Brianna totally adores Roxy and it was a great fit.
Anyway, she brought "Katia" to my home and I loved her!  She is a 5 lb. reddish brown sweetheart!  I renamed her Ruby and am delighted to have her.
Ruby appears very smart.  Within 24 hours of having her, she learned how to go in and out of the dog door and was already housetrained. You can't beat that!!!  We originally thought Roxy could be trained to be a therapy dog for Brianna, but after failing the beginner class twice so far, we just might be looking at Ruby to do that now :).
Sorry for the blurry pic of Ruby. It was taken quickly with a bad camera phone, but you still get the picture.